Custom-designed and engineered
Our mission is to engineer the most cost-effective, robust and efficient fan solutions for your unique needs.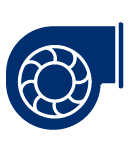 Our range of centrifugal fans includes a variety of types and sizes, all of which can be customised. As part of our medium-duty to heavy-duty range, these fans can be supplied in various materials, including high-strength carbon steels, stainless steel, super duplex, and titanium.
The following specifications and applications are available in the robustly designed centrifugal fans we offer:
Backward-curved, aerofoil-bladed impellers for clean air environments
Backward-curved, laminar-bladed impellers for clean air environments
Backward and inclined bladed impellers for semi-clean air environments
Forward-curved and radial-tipped laminar-bladed impellers with self-cleaning capabilities
Radial, laminar-bladed impellers with self-cleaning capabilities
Single and double inlet fans
Conical or radial impeller front sheet designs
High-temperature, centre-line supported fans
Single and two-stage high-pressure, high-speed, narrow-width fans
Oven and furnace circulating fans
We also offer the following accessories for centrifugal fans:
Inlet vane control systems for the regulation of volume flow
Inlet louvre control systems for the regulation of volume flow
Inlet and outlet silencers
Acoustic lagging for fans
Inlet and outlet flexible connections
Discharge diffusers for optimum performance