Technology, inspired by nature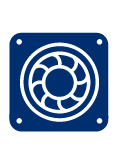 Our long-serving range of Auxiliary Fans has efficient aerofoil-shaped bladed designs for heavy-duty applications. Designed using state-of-the-art Computational Fluid Dynamics (CFD) technology and detailed 3D surface modelling, the rotor blades feature forward-sweep to relieve root-attachment stress and to ensure long service life. In addition, the rotors are bowed and twisted to eliminate corner stall at design angles, which are themselves optimised to allow quiet operation, with excellent performance efficiencies.
USING NATURE'S EXAMPLE
One of our most recent innovations in auxiliary fan design comes as a result of studying biomimicry. The outcome is a blade with a wavy surface, which has led to an extended operational envelope. High efficiency and performance across the intended range is maintained through the control of tip clearance losses and vortex shedding, to further reduce flow separation at a high angle of attack.

This technology, inspired by nature, is combined with passive-suction surface-boundary layer control and tandem stators, to reduce power consumption across a broad range of flow rate, pressure and angle settings, thus ensuring quiet operation and separation-free, low-swirl flow at the outlet.
Axial flow auxiliary mining fans designed with the following features:
Direct drive
Indirect drive, depending on power needs
Variable blade pitch at rest
Either Steel or Aluminium blades
High efficiency cambered plate, premium efficiency aerofoil cast plate
Split barrels, depending on fan configurations

Fan sizes from 406 mm (4kW) up to 2,000 mm (110kW) in diameter